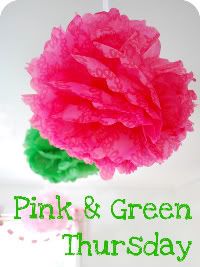 I love pink and green, but I'm having trouble coming up with some fun and cool that I have that is pink and green exactly. Well, here's something that recaps my weekend and is pink and green. I spent Saturday by my parent's pool in my green and pink bikini drinking margaritas with my sister!
The lounge scene
I know I look lovely... not really....
It was a lovely weekend, but I spent way too much time in the sun and being that I'm very pale because I don't go tanning, I totally got an all over burn, but especially burnt where you can see how white my chest is around the top of my bikini top. It still hurts a lot! I'm already peeling on my chest! So gross!
I got to bring my dog home from my parents this week for a trial run to see if she may be able to return to living with us. To recap she's been at my parents cuz she was a crazy dog and hard to have in our small place in the city. And, my husband isn't a big dog lover, so she drove him crazy. Now she's crazy calm and practically a cat. So, I'm hoping I get to keep her again!
Kahlua
Right now she's wearing a green collar with blue polka dots. Look at how cute these Lilly Pulitzer dog collars are! She'd look so cute in them....